Unlike others in the industry, Magna provides technical support to get our customer's machines up and running.
Servo System Technical Support and Comprehensive Service Approach
Troubleshooting machine failure is a difficult task, as often the symptoms of the failure are not the true underlying cause. With Technical and Purchasing departments reduced, this task is often left to the maintenance department.

It is often the case that a servo motor may fail because there is a problem occurring within the amplifier, power supply or the cables. Magna Products Corp takes a comprehensive and vigorous approach to handling servo system failure by looking at the entire system, rather than just the individual parts. 
By working with Magna Products, you will automatically increase your machine uptime without unnecessary investments in equipment! Magna does not just supply servos, we fully support our customers until they are back up and running. 

Having difficulty finding the root cause of your issue?  Magna offers up to one hour of free consultation to support your troubleshooting efforts.

Experience has proven that a disciplined and documented approach to system troubleshooting is the fastest way to clarify the issue. Magna provides a time-tested method for our customers to follow, with support throughout the entire process.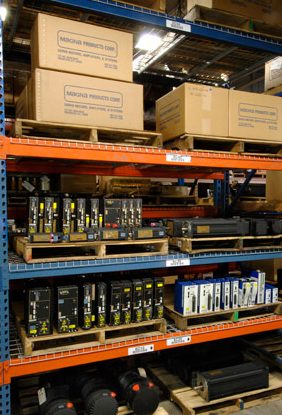 Root Cause Failure Analysis
Magna Products Corp. understands and services all of the servo system components. Our factory-trained employees use our established diagnostic approach to work with you step-by-step to find the true cause of the failure. With this approach, every inch of the servo system is checked and the status is evaluated. Our servo system technical support allows us to get your machines up and running in no time.

Companies internationally choose Magna as their qualified vendor time and time again, as Magna offers complete servo system support and gets machines up and running with minimal downtime. Available 24/7/365, Magna works with you to get to the bottom of the problem, and ship out the needed components from our extensive servo inventory.  Our technical support is unparalleled. 

Magna monitors recurring failures of your equipment, and works directly with your technical staff to make sure that the complete servo system is working properly.
Ready to buy now? Our servo motor and servo amplifier inventory is listed on our eBay shop.
We are committed to the highest industry standards. If you do not find the item that you are looking for, please call us! (800) 221-3561. There are thousands of units in our inventory, we have what you need.