Don't take a chance with your servo repair. Magna provides the best value in servo system repair. Dedicated to keeping our customers' machines up and running, 100% of the time, we have what you need.
Indramat 2AD spindle motor inventory is listed below. If you cannot find what you need online, please call us.
The Indramat 2AD spindle motor is an asynchronous motor series

The Indramat 2AD spindle motor is used in a spindle application, and in a servo axis.

The motor feedback for the 2AD series has a resolution of 1/2,000,000th revolution to provide very precise speed control.

The Indramat 2AD spindle motor system was originally designed for: Machine Tools (Metal Cutting), Printing Machines, Packaging Machines and Reshaping Machines.
The 2AD spindle series comes in 3.5KW to 93KW nominal power.
The 2AD spindle motor is configurable for a flange or foot mount.

There can be a shaft extension added to the opposite drive end of the 2AD spindle motor for mounting an additional feedback.

Blower and brake options can be configured to the 2AD spindle motor.

There can be different vibration specifications provided, along with standard and heavy duty bearing.

The direction of the circular electrical connectors can face four directions (drive end, opposite drive end, right or left).
Why Choose us?
Our technicians apply their understanding of the whole servo system, to truly diagnose and correct the failure in your Indramat spindle motor. Our servo system knowledge, extensive inventory of remanufactured units and our long term experience servicing Indramat servos keeps Magna as the top provider for Indramat/Bosch Rexroth spindle motors. Providing the best value in supporting the older legacy spindle motors, we keep you running with no unnecessary down time.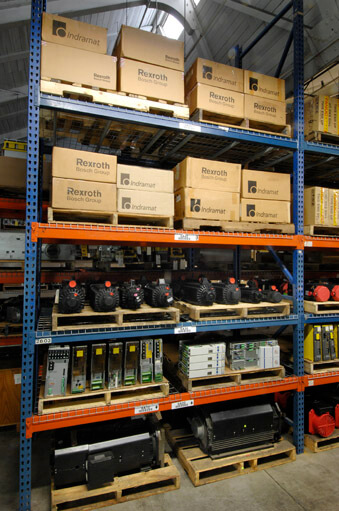 We are committed to the highest industry standards. If you do not find the item that you are looking for, please call us! (800) 221-3561. There are thousands of units in our inventory, we have what you need.