Don't take a chance with your servo repair. Magna provides the best value in servo system repair. Dedicated to keeping our customers' machines up and running, 100% of the time, we have what you need.
Indramat KDV servo power supply inventory is listed below. If you cannot find what you need online, please call us.
The Indramat KDV servo power supply has a three phase bridge rectifier. The unit uses the rectifier to convert the three phase main AC Power Supply into the DC high voltage for the drives.

KDV servo power supplies have extensive monitoring functions. These functions are communicated through the signal voltage bus to the drive modules.

KDV servo power supply are similar in design to the Indramat TVM Servo Power Supply. The exception is that the KDV has an external heat sink mounted to the rear, mounting side of the unit. This is designed to go through the rear of the cabinet. This extra heat sink can reduce the cabinet temperature by as much as 90%.

The KDV provides +24Vdc and ±15Vdc control voltages to the drive and/or spindle modules in addition to the supply of the DC BUS power.
KDV servo power supplies comes in 100 amps continuous current rating.
KDV servo power supplies have a 220 Vac input option.

The unit supplies 300 Vdc for the drive and spindle modules DC BUS voltage.
Why Choose us?
Our technicians apply their understanding of the whole servo system, to truly diagnose and correct the failure in your Indramat power supply. Our servo system knowledge, extensive inventory of remanufactured units and our long term experience servicing Indramat servos keeps Magna as the top provider for Indramat/Bosch Rexroth power supplies. Providing the best value in supporting the older legacy power supplies, we keep you running with no unnecessary down time.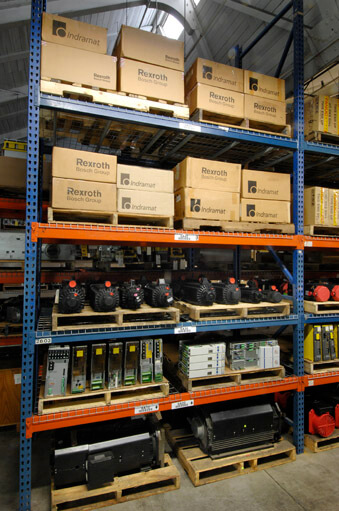 We are committed to the highest industry standards. If you do not find the item that you are looking for, please call us! (800) 221-3561. There are thousands of units in our inventory, we have what you need.