When your machine is down and every second counts, you can count on Magna to provide the most dependable and fastest solution to your problem.
Kollmorgen BDS4 servo inventory is listed below. If you cannot find what you need online, please call us.
The Kollmorgen BDS4 servo amplifier uses a microprocessor married with a highly integrated PWM (Pulse Width Modulated) servo amplifier. By doing so, the amplifier provides precise torque and velocity control.

The BDS4 servo system incorporates Kollmorgen's patented "Torque Angle Control."

The system allows for tight control of current with respect to speed and load.

The BDS4 compensation card matches the motor to the amplifier. The card also sets current and speed limits for the system.

The BDS4 system was designed for the following industries:

Web processing

Food processing

Packaging

Conveyors

Process Control

Material Handling

Thermoforming

Machine Tool

Robotics
The BDS4 series of servo amplifiers comes in 3, 6, 10, 20, 30, 40 and 55 amps rated current.

The BDS4 servo amplifier can be configured for 115 VAC or 230 VAC maximum nominal output voltage.
The Kollmorgen BDS4 servo amplifier system can come with a standard accuracy resolver, a digital converter or a special accuracy.

The unit can be configured with several different encoder and parallel output options.
Why Choose us?
Our technicians apply their understanding of the whole servo system, to truly diagnose and correct the failure in your Kollmorgen servo amplifier. Our servo system knowledge, extensive inventory of remanufactured units and our long term experience servicing Kollmorgen servos keeps Magna as the top provider for Kollmorgen servo amplifiers. Providing the best value in supporting the older legacy servo amplifiers, we keep you running with no unnecessary down time.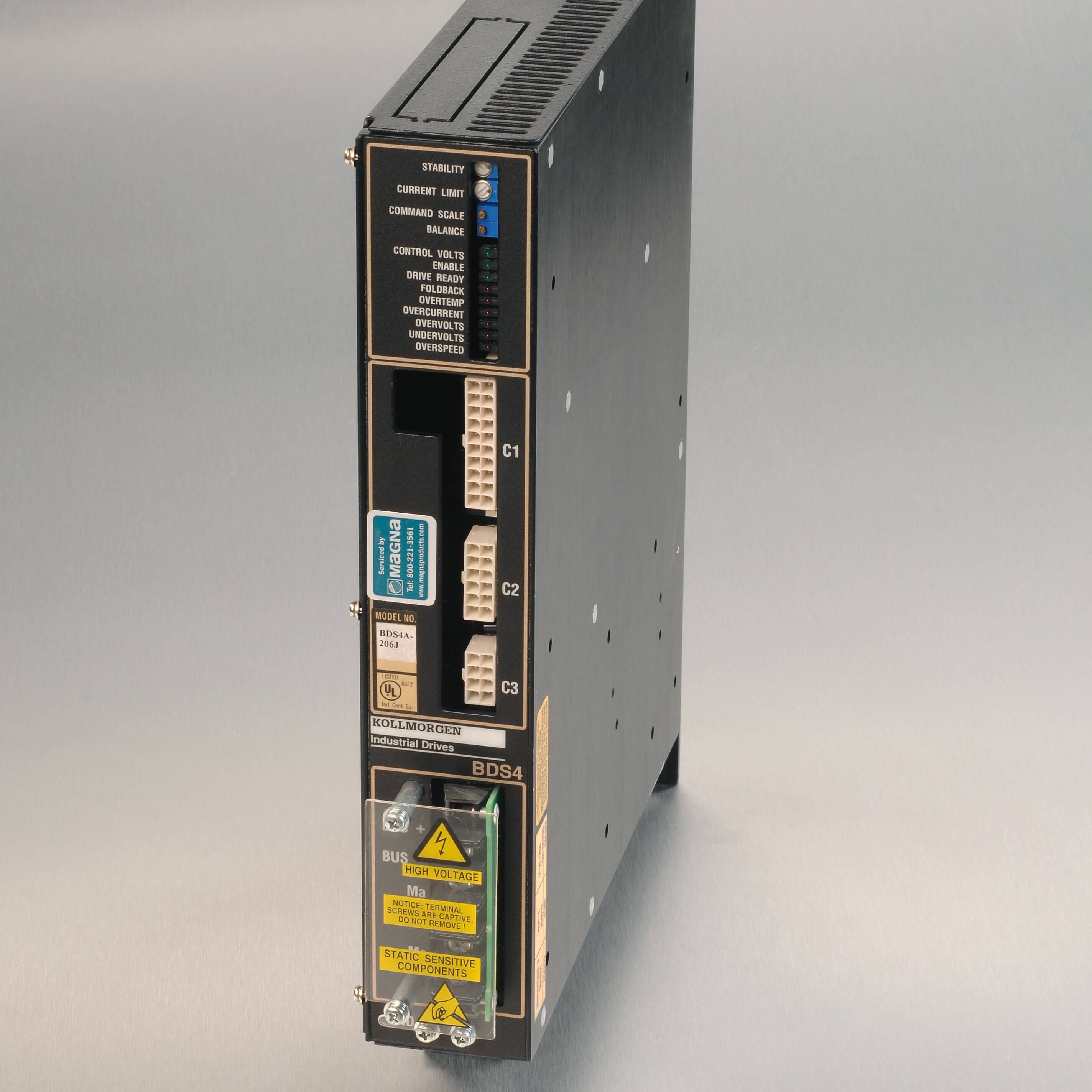 We are committed to the highest industry standards. If you do not find the item that you are looking for, please call us! (800) 221-3561. There are thousands of units in our inventory, we have what you need.